• Challenge Quilts • Commission Quilts • Other Original Quilts • Quilts from Classes & Patterns • Tribute Quilts • Art Quilts Page • Home •
Too Much Soul to Control
36" square
This commission quilt is a tribute to a client's late husband. In it, I incorporated some of his most beloved clothing and belongings. The movie theme was a nod to their shared love of films and the film industry.
To create the sprocket holes for the edges of the film, I used Shiva Paintstiks and tape. There is a lot of QuiltWriting in this quilt as well as freemotion machine quilting.
This quilt belongs to Linda Lee Kaye. It was shown in the 2007 IQA Judged Show at the International Quilt Festival in Houston, Texas, and will hang in the 2008 Mid-Atlantic Quilt Festival.
---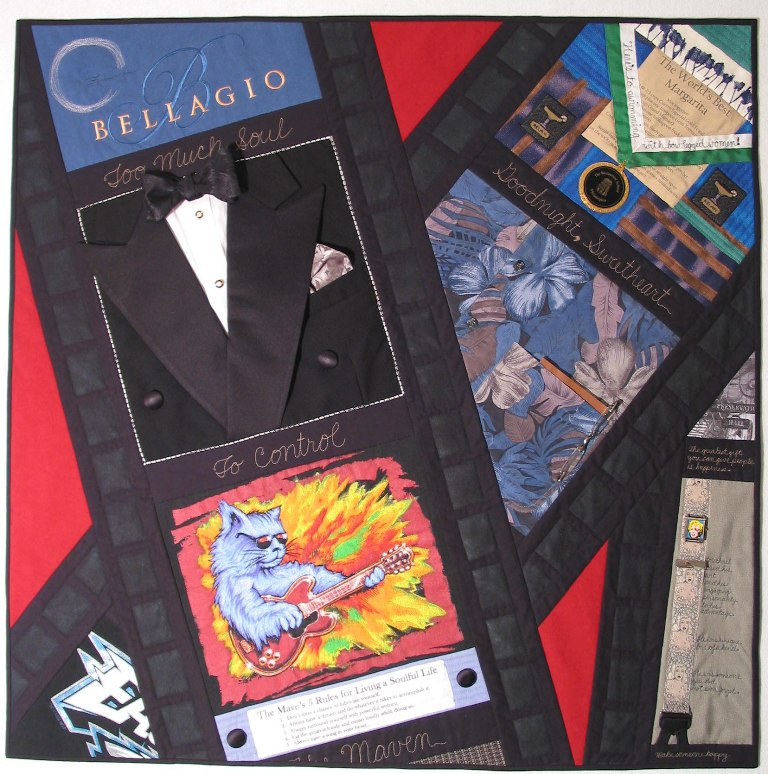 • Challenge Quilts • Commission Quilts • Other Original Quilts • Quilts from Classes & Patterns • Tribute Quilts • Art Quilts Page • Home •