Current Blog Post
One Big Art Quilt, Five Life Lessons
About Moonlighting Quilts
Through my company, Moonlighting Quilts, I share my love of quilting locally in the DC metropolitan area and nationally at quilt shows and for quilt guilds. I lecture, I lead workshops, I teach art quilt classes locally, and I create quilts for clients, often celebrating special events or the life of a lost loved one. I also offer a few original patterns for sale and as workshops.
Lectures: I offer lectures about creating celebration quilts, adding words to your quilts (not just on the labels!), and taking better digital photos of your quilts. For professional groups, I offer a lecture on commission work. Many of my quilts are made as commissions and I'm happy to talk about the process from both artistic and business perspectives.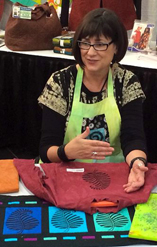 Workshops: I love putting my education degree to work teaching others how to translate the quilts in their imaginations into reality. As a BERNINA Ambassador, I especially enjoy teaching machine quilting three ways: feed dogs up (stitch in the ditch, channel quilting, and specialty stitching), feed dogs down (freemotion quilting), and freemotion QuiltWriting.
I enjoy surface design, and I teach three surface design technique: Tsukineko Inks, Shiva Paintstiks, and Woodblock printing. I love using stencils and masks, and I'm always happy to share those techniques as well.
My favorite workshop comes from my book, Creating Celebration Quilts. In this 3- or 6-hour class, I help quilters clarify their memory quilt vision and begin to create a plan. I highlight options, offer additional considerations, and help each quilter overcome the biggest speedbump in their project.
Commissions: Most of work I do is for clients. Some are celebrating a birth or a wedding. Many are commemorating the life of someone loved and lost. Often, clients bring me bags and boxes of clothing and artifacts. It's my job to tell the story in a quilt.