My Trees quilt is one of my favorites. Not only was it a quick quilt to make, but it also reminds me to keep things simple. Let the fabric do the heavy lifting and let the viewer supply some of their own interpretation.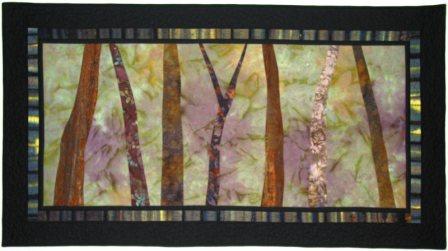 I enjoy teaching my Trees workshop; I love the sense of accomplishment I see when quilters make their first freeform cut using a rotary cutter and no rulers! After that first tree is pieced into the background, then everyone begins to see the possibilities. What if I added a branch? What if the trunk is split? What if? These are powerful words.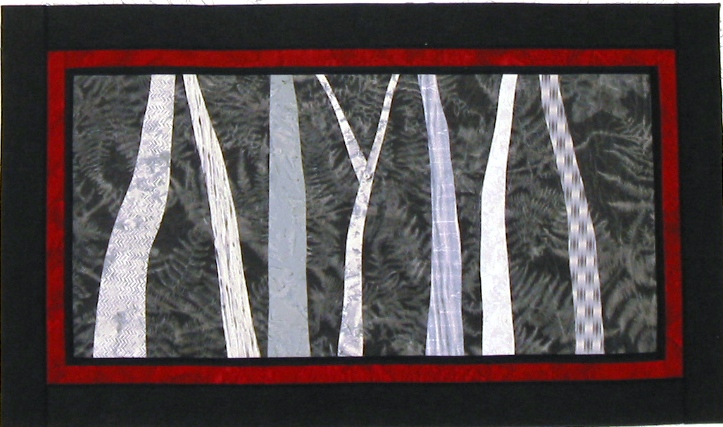 New Braunfels Area Quilt Guild, New Braunfels, Texas
The quilters in New Braunfels are fearless! I visited them in February for a lecture and workshop and they made lots of trees. Aren't they wonderful?!
Close up of one of the groves

Class Picture

Finished! Linda Lanclos

Click on the image for a better view of her intricate quilting patterns. Very nice!
Annandale Chapter, Quilters Unlimited
I visited the Annandale Chapter of Quilters Unlimited of Northern Virginia for a lecture and a workshop and we spent an afternoon working on trees. Here are some pictures.
| | | |
| --- | --- | --- |
| The Sweatshop | Working Hard | Hey, this is working! |
| Don't look yet! | Tiny seam allowances! | Cool Green Background |
| Birches in the Sun | Ta Da! | Thinking Hard |
| I Love Orange | Fast Workers | I dressed to match! |
Richmond Quilt Guild

I was invited to lecture and teach my Trees workshop for the Richmond Quilt Guild in Richmond, Virginia. What a wonderful group of ladies! Here they are in action and, often, deep concentration.

Finished! Ann Shibut

Class Picture

Dueling Cutting Mats

First Tree!

Go, Featherweight, Go!

Getting Started

I Love Orange

Pretty Background

Two Trees

Time to Cut

Deep Thought

Watch Your Fingers!

Decisions
McLean Chapter, Quilters Unlimited
I visited the McLean Chapter of Quilters Unlimited of Northern Virginia and we spent a fun day working on trees. Here are some of the highlights.
Choices

Lots of Trees

Concentration

An Artful Approach

Birches

I'll Appliqué, Thank You

Great Use of Trees Fabric for Background

Sunset Background

Beautiful Hand Dyed Background

Check out the horses

in the background

Mmm...Setacolor Background

Wonderful Monochromatic
---
To book your own Trees workshop, contact me at Cyndi@MoonlightingQuilts.com.